"great characterization, action, suspense, attraction, arson, and danger" - MYSTERY & SUSPENSE MAGAZINE (click here for the full review)
"Tee O'Fallon heats the pages up in BURNING JUSTICE, giving us arson, murder, mystery, and a delicious slow-burn romance… Gemma and Brett's chemistry absolutely sizzles on the pages." - fresh fiction (click here for the full review)
"Holy smokes, grab an extinguisher! The handsome alpha ATF agent combined with the strong-willed, independent woman gets the heat rising quickly in "Burning Justice". Tee O'Fallon deserves kudos" - InD'tale Magazine
"Excitement and questions with a side of drama and angst make this story sing." - My Bag of Books Blog
"This book had a bit of everything! ... suspense, intrigue, murder, mystery, revenge. A great who done it, great police work and some really crazy twists and turns that I did not see coming!...kept me glued to my Kindle! I definitely recommend reading this book as it was well worth reading." - Debbie B., NetGalley
"This book is a winner!... I loved the characters and how they came alive on the page. romance with a bit of danger and mystery… a must read for fans of the genre." - Linda Q., Goodreads
KEEP SCROLLING FOR MORE REVIEWS!
---
Some cases are hot enough to kill.
After narrowly surviving a childhood fire that killed two of his friends, ATF Special Agent Brett Tanner knows what it's like to get too close to the flame. The trauma only spurs him and his K-9 partner to track down the arsonists targeting a Colorado town. This latest warehouse blaze looks suspicious as hell…and there's a body. Now it's murder.

Fiercely independent insurance investigator Gemma Scott has been burned enough times to know she doesn't need anyone—especially a handsome agent with an agenda. Teaming up with the hardened and determined ATF agent means not just trusting her instincts…it also means trusting him.

Now they're racing against an arsonist with a lethal agenda—one who's willing to burn and kill to hide the evidence. But the killer is only part of a larger mystery. And the searing attraction between Gemma and Brett adds fuel to an already dangerously lethal fire. One that will smoke out a killer…along with Brett's darkest secret.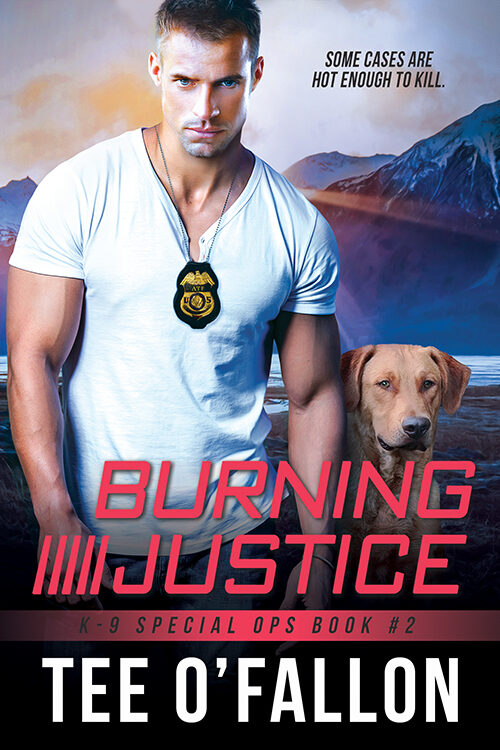 "I loved the slow and light romance feel to it. I will definitely continue reading and following Tee as she is very talented!" - Courtney C, NetGalley
"This is a five-star read that will burn its way into your heart." – Sara O., BookBub
"I've read every Tee O'Fallen book and have LOVED every single one of them! This is no exception. I couldn't put it down. The chemistry, the suspense, the action and of course the DOGS." - Jessica C, NetGalley
"I just live for Tee O'Fallon and this series now. I love the K-9 presence, it gives it that extra something special with the connection. I want to go back and read all of her back list now because after two books Im completely captured." - Erica R, NetGalley
"Lots of action here! I really enjoyed this story and read it almost in one sitting." – Kerry, Goodreads
"I really enjoyed this latest K-9 book by Tee O'Fallon. I read book 1 a while back and liked it. Deck and Tori from that novel play supporting roles here, but this book stands alone just fine." - Mindy L, NetGalley
"The mystery/suspense in this book was really well done, and I loved seeing it unfold. Great Read." - Christina W, NetGalley
"The story had all the elements needed for a good romance novel - romance, suspense, revenge, enough steamy bits to keep it interesting and humor to tie it all together. The characters in the book were believable …there was a great story plot …ending with a killer finish that you won't see coming - and to top it all off, you have Blaze!" - Patti G, NetGalley
"If I could give this book 50 stars I would because from page one it will have you totally wrapped up and you going on a wild ride" – Teresa M., BookBub
"​​The fast-paced & riveting plot kept me guessing until the very end. Add in Blaze, an ATF K-9, and I was hooked!" - Cynthia C, NetGalley
"Great compelling read, hard to put down once started, playful story line with endearing characters, I can't wait to read the next book." - Di B, NetGalley
"There's lots of heat, danger and suspense, but also a great feeling of family and friendship. Not to forget the simply amazing K-9 Blaze!" - Silke S, NetGalley
"I loved Gemma and Brett. They had chemistry, both in their search for answers and their growing attraction to each other. And there's a wonderful accelerant detection dog who stole my heart." - Kristen L, NetGalley
"This book is exactly what you are looking for when coming to a romantic suspense while being it's own unique story." - Lottie S, NetGalley
"This book is a winner! I loved the characters and how they came alive on the page. They were flawed, but likable and relatable." - Linda Q, NetGalley
"This book had a bit of everything! It had suspense, intrigue, murder, mystery, revenge, A great who done it, great police work and some really crazy twists and turns that i did not see coming! The storyline was very interesting and kept me glued to my Kindle!" - Debbie B, NetGalley
"This was not the first book by Tee O'Fallon that I've read and I have never been disappointed so I went in with high hopes. Happily, the positive track record continued with another fantastic book!" - Kel M, NetGalley
"I really enjoy reading Tee O'Fallon's stories, they are always enjoyable and fun to read." - Suzi B, NetGalley
"Another great read in this wonderful series where somehow the canine always seem to steal the show" - Debbie C, NetGalley
"This was a really good book. Both the hero and heroine had personal issues. There was a lot of angst and suspense. The cute K-9 was an added bonus." - Barbara L, NetGalley
"There is arson, murder. mystery, suspense, self-doubt, angst, some laughs, tears and steam all to get us to a HEA." - Nancy K, NetGalley
"The MC are both tough on the outside but harboring pain from past wrongs. I love an Alpha guy who tries really hard not to fall for the girl." - Marcella Q, NetGalley
"Brett & Gemma hook us in with the suspense & the intensity of the case. Their chemistry, push & pull can be felt so strongly. Emotions played such a huge part & you sympathize with both of them & their struggles. This kept me hooked & entertained without a doubt." - Rebecca M, NetGalley
"Wonderful writing, great characters, and a dog that steals the show. I loved it." – Pamela L., BookBub
"This was an incredible read! Brett and Gemma agree to work together to catch an arsonist. The sparks fly, in their corroboration and the scenes of the fires. There are so many great moments and completely unexpected plot twists." - Margaret H, NetGalley
"Lots of action here! I really enjoyed this story and read it almost in one sitting. Brett and Gemma were great together, and I loved watching their romance grow. It's impossible not to cheer for them, even when they make mistakes." - Kerry L, NetGalley
"This book hooked me from the very beginning… This is another suspenseful mystery with well-developed characters." – KCLibrarian, BookBub
"I love Tee O'Fallon's books, and this one is no exception. It has everything I have come to hope for and expect from her writing—an engaging plot; a strong, smart heroine; a sexy, smart hero; fast-paced action; and the pièce de résistance, a very good dog." - Beth C, NetGalley
"A fantastic story that had some real emotional aspects that touched me, but also a great story and couple in Brett and Gemma" - Shelley C, NetGalley
"Burning Justice is entertaining, thrilling, and fast paced. You will not regret reading it. Highly recommend." - Michelle R, NetGalley
"Excitement and questions with a side of drama and angst make this story sing." - My Bag of Books Blog
"This book had a bit of everything! ... suspense, intrigue, murder, mystery, revenge. A great who done it, great police work and some really crazy twists and turns that I did not see coming!...kept me glued to my Kindle! I definitely recommend reading this book as it was well worth reading." - Debbie B., NetGalley
"This book is a winner!... I loved the characters and how they came alive on the page. romance with a bit of danger and mystery… a must read for fans of the genre." - Linda Q., Goodreads
---