"FORBIDDEN SLOW-BURN LOVE, DANGER, LIES, BETRAYAL, MOB FAMILY DRAMA; THERE'S SO MUCH GOOD STUFF PACKED INTO THIS READ... ABOVE 'N' BEYOND ENDS AN ADDICTIVE SERIES WITH A BANG AND GIVES READERS A VERY SATISFYING CONCLUSION." - FRESH FICTION
"LOVED EVERYTHING ABOUT THIS BOOK! HAD YOU HOOKED FROM THE VERY FIRST CHAPTER TO THE VERY END, THE AUTHOR KNOWS HOW TO KEEP YOU ON THE EDGE OF YOUR SEAT THE ENTIRE TIME!" -MEGAN S, NETGALLEY
"TALK ABOUT ENDING AN EXCELLENT, ROMANTIC SUSPENSE SERIES WITH A BANG--TEE O'FALLON HAS DONE JUST THAT IN ABOVE 'N' BEYOND, THE 7TH AND FINAL NOVEL IN HER FEDERAL K-9 SERIES. IT GETS 5 STARS FROM THIS READER." -DONNA B, NETGALLEY
"THIS BOOK GRABBED MY ATTENTION FROM THE START, AND I COULD NOT PUT IT DOWN." -JENN O LEARY 05
"THIS BOOK HAD MY ATTENTION FROM THE VERY BEGINNING. THE PLOT WAS EXCITING AND I COULDN'T WAIT TO SEE HOW THE AUTHOR WAS GOING TO BLEND HER FELON INTO THE STORY." -A MIDLIFE WIFE
"THE AUTHOR DOES A GREAT JOB MIXING ACTION WITH ROMANCE. JAMIE AND BELLA HAVE A GREAT CONNECTION. I WAS ON THE EDGE OF MY "COUCH" WHILE READING. THERE IS SO MUCH AT STAKE FOR BOTH BELLA AND JAMIE. THIS IS NAIL-BITING SUSPENSE AT ITS BEST." -MIN READS 15
"AND WITH THE PERFECT AMOUNT OF SUSPENSE AND ROMANCE. NOT TO MENTION SUCH AN ENGAGING STORYLINE AND REALLY LIKABLE CHARACTERS INCLUDING JAX, JAMIE'S K-9 COMPANION. THIS WAS A REALLY ENJOYABLE END TO AN ENGAGING SERIES, AND HONESTLY I THINK THIS HAS BEEN MY FAVOURITE ONE. I WOULD HAPPILY RECOMMEND ABOVE 'N' BEYOND TO ALL." -MAGSLOUISETHEBOOKWORM
"WOW WHAT A FANTASTIC WAY TO WRAP A SERIES THAT I DIDN'T WANT TO END. BUCKLE IN FOR ONE LAST RIDE WITH THIS CREW, YOU WON'T BE ABLE TO LOOK AWAY FROM COVER TO COVER. DEFINITELY RECOMMEND." -S&C'S BOOK BLOG
"THIS WAS A REALLY SWEET BOOK, AND HOW CAN YOU NOT LOVE A BOOK FEATURING AN AMAZING DOG AND SOME SPICE BETWEEN THE MAIN CHARACTERS? IF YOU ARE LOOKING FOR A WONDERFUL ROMANTIC SUSPENSE NOVEL, THEN CHECK THIS ONE OUT." -SPEED READSTAGRAM
"THIS BOOK IS A PART OF A SERIES AND I'M SAD TO SAY THIS IS THE END OF THE AUTHORS K9 SERIES, BUT WHAT A WAY TO GO. BETWEEN THE CANINE INTERACTIONS AND THE MAFIA ANGLE IT'S A MIX OF SWEETNESS AND DRAMA. WHILE YOU DON'T HAVE TO READ THE OTHER BOOKS IN THIS SERIES TO ENJOY THIS ONE I HIGHLY RECOMMEND THAT YOU. IN FACT IT MIGHT BE MY FAVORITE OF THEM ALL ( I GUESS THE AUTHOR WAS SAVING THE BEST FOR LAST). 5 STARS." -ALR
"OMG I LOVED THIS ONE! IT STARTS OFF VERY EXCITING AND THE ACTION NEVER LETS UP. I WAS ENGAGED THE WHOLE TIME WHILE READING AND DIDN'T WANT TO PUT IT DOWN." -GAB READS BOOKS
"ACTION, STEAM, ROMANCE AND OF COURSE JAX, ALONG WITH HIS NEW SIDEKICK, GNOCCHI, MAKE THIS STORYLINE SO SPECIAL. DO NOT MISS THIS NEWEST BY TEE O'FALLON." -MY BAG OF BOOKS 88
"THIS HAS BEEN AN AWESOME SERIES. I LIKE THE WAY THE AUTHOR DRAWS ON HER EXPERIENCES IN LAW ENFORCEMENT TO WRITE HER STORIES, ALWAYS INCLUDING ROMANCE FOR OUR HERO. THE STORIES ARE BELIEVABLE, YET MY HEART ALWAYS SEEMS TO BELONG TO THE K-9 ATTACHED TO THE OFFICER. ABOVE AND BEYOND IS JUST WHAT THE TITLE SAYS, THAT JAMIE WILL GO ABOVE AND BEYOND HIS DUTY TO MAKE SURE JUSTICE IS SERVED AND IF BELLA IS INNOCENT, PROTECT HER TOO." -READY TO READ GIRL
---
Deep secrets. Deadly truths.
Getting locked up had been easy. But for K-9 Sergeant Jamie Pataglio, going undercover at a maximum-security prison—and infiltrating the Mancusco crime family—was the hard part. Now, six months later, Jamie's been accepted as one of the mob's own, and he's walking out of the gates as a free man…and stepping into the criminal underworld. There's only one small, gorgeous problem: Bella Bianco.
The Italian bistro used to be Bella's pride and joy. Now it's become a nightmare, where her violent family uses her restaurant as its criminal home base. Guilty by association. She needs to find a way out, and fast. The last thing Bella needs is an attraction to their newest "associate"—even if every moment alone with him leaves her breathless. It's almost enough to make her reconsider her "no mobsters" policy…
They can't trust each other. But if either of them ever wants to break free of their circumstances, they don't have a choice. They'll have to take down her family. And if anyone finds out they're working together…they're both dead.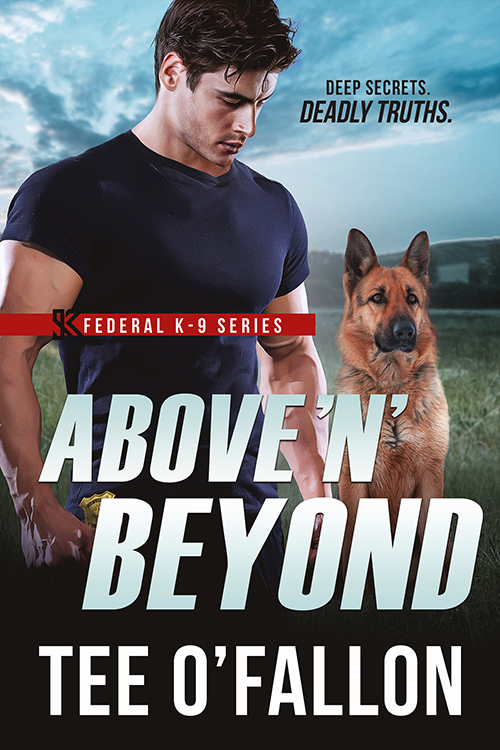 *Denotes affiliate link. I may earn a small commission if you make a purchase.